What began as a small, PR-focused client turned into our largest account in a matter of months. Blue Diamond's Global Ingredients Division serves a B2B audience who use almond-based products for a variety of food applications. While their name was known throughout the food industry, they wanted to change their go-to-market strategy using content marketing.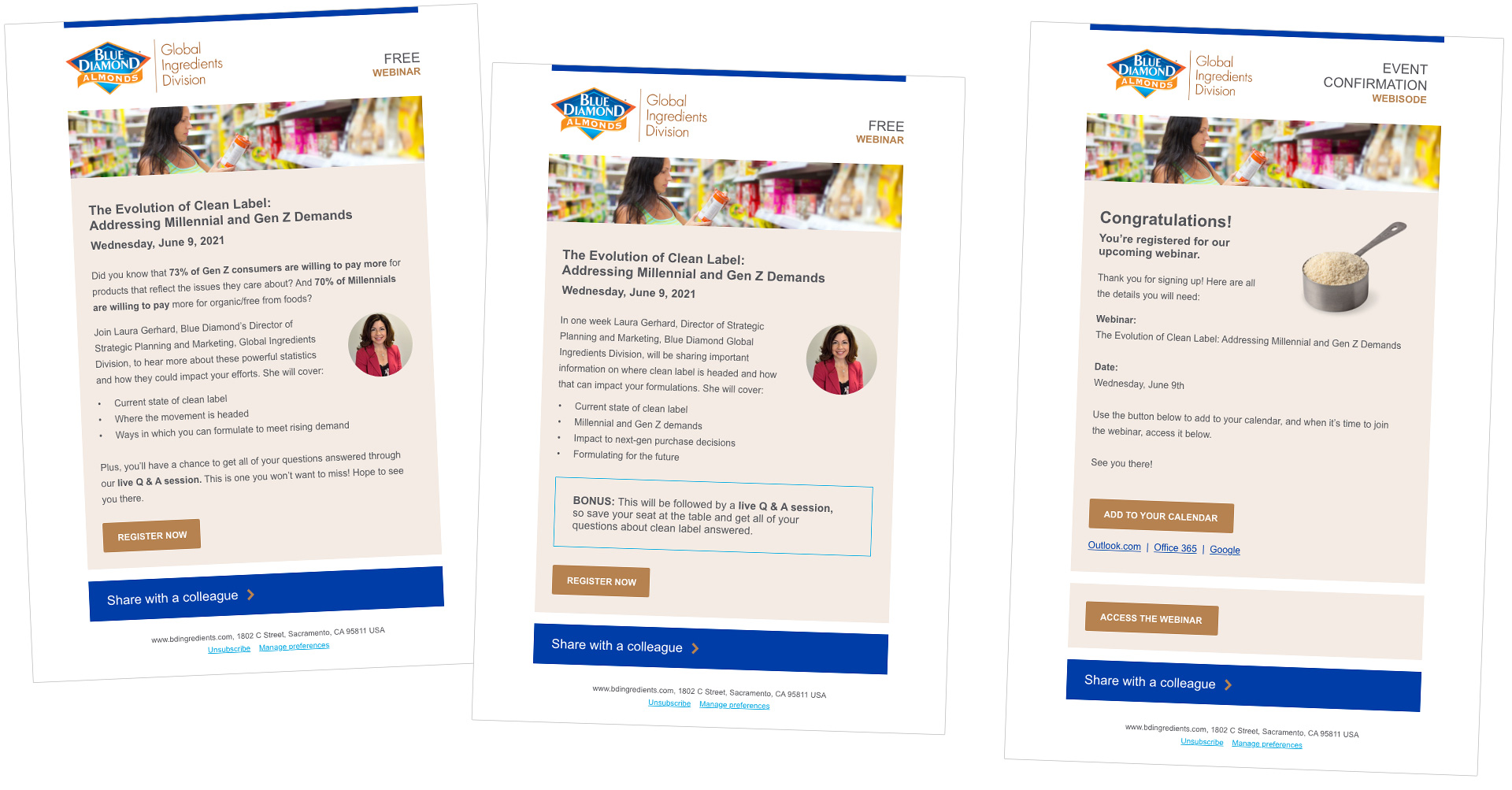 The first project was a series of webinars that would be filmed at their headquarters in Sacramento, CA. We are slated to produce four, 10-minute webi anars in 2021 in batches of two. When they went "live," the webinars were followed by a 20-minute Q&A. These were merged and made available "post-show" within a week. Due to the COVID pandemic, only one of us would be able to attend. Since the talent was key to the sucess of the webinar, our ECD coached talent in person, I connected remotely for technical assistance and recording takes and our account supervisor made sure we were legal.
Figured out how we'd get it done, including a rough schedule
Worked with the copywriter and their script to make the storyboard
Incorporate authentic stock video and photography
Integrate available b-roll plant and drone footage
Prepare production documents, including shot list and schedule
Remotely attend the video shoot to taking notes for editing
To save time, the director of photography and I decided to record in 4K knowing our final output will be HD. This efficiency meant capturing our talent once. This decision helped put our nervous subject matter experts at ease knowing they only had to record once.
When all the above was complete, I then strategized the supporting materials for the webinar, including pre-show emails, landing page (pre- and post-live), and paid LinkedIn campaign.
I designed the storyboards with the client in mind, leaving nothing to the imagination. This also helped out the internal staff who were on camera.
Here are the first two webinars that went live in 2021.
Simz Productions
Sacramento, CA.
Edited in Adobe After Effects
Post-live recording edited in Adobe Premiere Pro
Creative Strategy Storyboarding Art Direction Video Shoot Coordination Motion Graphics Project Management